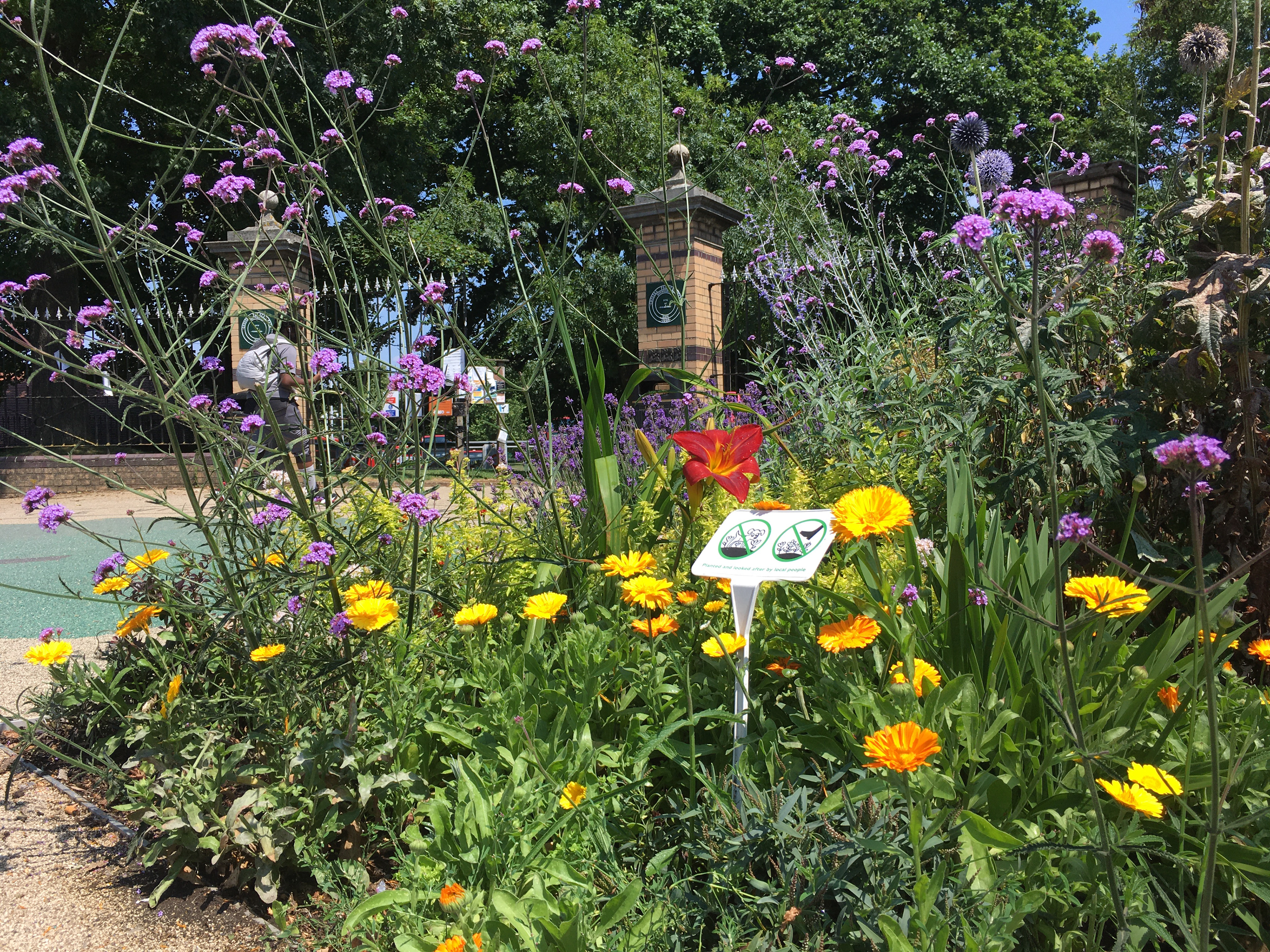 Meet us at the Vicar's Oak every Friday 10am - 12 noon
Notes on lockdown gardening at the Vicar's Oak by Lou yates
A living garden needs some attendance, some passing glance to notice what nature has been up to since the last visit and by spring there is so much going on, so two of us set out separately and at a distance to weed and water on a hot late spring morning.
Going into its third summer, the many different plants have started to mass together and thrive. The planting has definitely evolved as the unique pressures and challenges of a busy public space become clearer. These very challenges are what make it a wonderful space in these difficult times of lockdown. People are able to pass through the space from four different directions and still at safe distance from one another- something that would have been impossible before when it was a large bedding display.
So for two hours we greeted folk who passed through as we tended one bed each, lifting out dandelions, nettles and landcress amongst other unwelcome things. The lockdown means that traffic has diminished so much to actually allow easy conversation. More people passed by than would normally on a Friday morning and many more were going into the park to exercise. So many stopped to thank us and one man spoke of how often he would walk up to the Vicars Oak to see how the flower beds had changed since he last passed by. Folk clearly seemed to have a little more time for each other. The many new plants popping up and coming to life in the beds were causing many people to smile and pause to enjoy them, take photos.
With such a diverse planting, people could have different favourites, could even prompt a conversation about which plant was the favourite and why. A bigger conversation about having more  beds like this in more public places also would arise, leading to chats about just how that could be achieved, what steps are needed to reach such a goal. All this time the watering can is filled and the beds tended, litter removed. Somehow the oddity of the situation brings out more interaction from a greater number of people and a much greater sense of reward for a couple of hours gardening.